Dental Implants Elsternwick
Leading Dental Implants Treatment from $4,500
Glenferrie Dental takes pride in offering superior Dental Implant services in Elsternwick. Our team of dental professionals is committed to restoring lost teeth and delivering beautiful, functional smiles to our patients. At Glenferrie Dental, the cost for a single tooth dental implant begins at $4,500.
A dental implant artificially restores the entire tooth, consisting of a small post or screw which is made from titanium alloy or zirconia, and which is surgically inserted into the jawbone.
The implant post integrates with the jawbone during a process called osseointegration and which takes about three months to complete. Once complete, an abutment is attached to the post and protrudes just above the gum line. The abutment supports the implant crown.
All-on-Four (All on 4 Dental Implants) Elsternwick
All-on-Four is a highly effective solution to replacing missing teeth. All On 4 is also getting more affordable each year, as technology advances. With All-on-Four, just four dental implants are required to secure a complete arch of lower teeth, while five to six dental implants are generally preferred to secure a full arch of upper teeth.
This treatment is extremely technique sensitive and Dr. Peter Laird takes a great deal of care in planning the implant placement before surgery proceeds.
The big advantage of having All-on-4 tooth implant treatment is that patients are able to replace all teeth on either the upper or lower jaw.
Prices for All-on-4 dental implants in Elsternwick start from $20,000 to replace all teeth on your upper or lower jaw. With easy payments plans available, it should be possible for everyone to afford full mouth teeth replacement procedures.
Teeth in a Day
Teeth in a Day is a treatment that is sometimes called Smile in a Day and it is a technique to replace missing teeth or to stabilize loose dentures in just a single day.
This treatment ensures you can leave our dental office with beautiful new teeth on the very same day.
With minimal discomfort after treatment and no need to wear uncomfortable dentures while dental implants heal.
Most patients leave with new teeth secured to their implants by a concept called Cross Arch Stabilization.
People receiving this treatment from cosmetic dentistry have seen an immediate gratification in their quality of life and are able to chew and smile comfortably which is proven to boost self-esteem and self-confidence.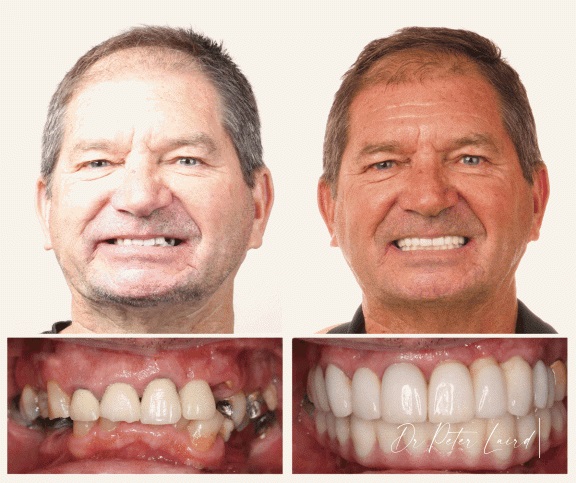 Single Front Tooth Implant
A front tooth implant protects your jawbone, and looks and feels exactly like your own tooth.
The loss of any tooth is unpleasant, but losing a front tooth is particularly upsetting for many people because we frequently draw much of our self-esteem and self-confidence from appearance.
This type of dental implant closely resembles a real tooth root, providing the alveolar bone with the stimulation needed, so bone loss doesn't occur.
The goal is to make sure that your jawbone remains strong and healthy.
Front tooth implant treatment is preplanned, the actual surgery for placing a front tooth implant is very quick, and you may only require a local anesthetic.
You will receive a temporary tooth on the same day.
Once healing is complete, your new permanent front tooth is made and fitted Front Tooth Implant.
How do I know if I'm eligible for dental implants?
Many of our Elsternwick patients wonder if they are able to get dental implants in the first place.
Dr. Peter Laird might recommend dental implants if you:
want to improve your speech,
you have missing teeth,
regular dentures keep falling out.
You're a suitable candidate for dental implants if you:
Have healthy oral tissues
Have a jawbone that's fully grown
Haven't been successful with your regular dentures
Don't have any health conditions that impact how your bones heal
Missing teeth can cause bone loss that can even alter the shape of your face over time. Implants will help stop this bone loss.
Why Choose a Dental Implant Over Other Ways to Replace Front Teeth?
Alternative choices for replacing a front tooth include a one-tooth denture or a dental bridge.
A dental bridge is fitted over the teeth adjacent to the gap.
These teeth must be substantially reshaped by a dentist, removing a lot of their original structure, so they can be crowned, and the crowns are attached to the replacement front tooth which is called a pontic.
If your remaining front teeth are strong and healthy, a dental bridge is not ideal because the adjacent teeth are significantly ground down and will always need to be protected with dental crowns.
Removing dental enamel from these teeth increases the possibility of infection and decay in these teeth in the future
What are the benefits of Dental Implants?
After seeing many Elsternwick patients for dental implants, this is what we can say:
The Health Benefits of Having a Dental Implant. A dental implant helps to protect your dental health.
When you lose a tooth, your remaining natural teeth will tend to drift towards the gap, destabilising them and changing the way your teeth bite together.
Because tooth loss increases the stresses and strains on your remaining teeth when you bite into food. Replacing the tooth with a dental implant helps to spread this load more evenly, so your natural teeth are less likely to wear or chip because of the additional forces.
A dental implant closely resembles a real tooth root, providing the alveolar bone with the stimulation needed, so bone loss doesn't occur, ensuring your jawbone remains strong and healthy.
One of the primary motivators for choosing a dental implant for your front tooth is for protective effect on your jawbone.
In particular, in older patients, bone loss affects the stability of the teeth adjacent to the gap, and it can affect aesthetics, resulting in that gap underneath a bridge pontic mentioned earlier.
Bridges vs. Implants
For many patients in our clinic on Glenferrie Road, dental implants offer clear advantages over traditional bridgework or dentures. Before dental implants were perfected, in order to replace missing teeth we had to fashion tooth-supported bridges or removable dentures.
With a dental bridge, the support teeth would be subjected to forces beyond their threshold, so the bone surrounding these teeth would begin to melt away and resorb, thus weakening their natural support system.
There was also an additional risk that the pressure on the bridge could open up a gap between the tooth and the bridge, forcing bacteria leakage and decay and leading to the possibility of root canals.
What's more, bridges connecting three or more teeth together made flossing difficult or impossible for patients.
Dental Implants & Insurance FAQs
How much does your insurance cover?
Different insurance companies have varying fee structures that could affect how much you have to pay out of your pocket. In general, you will need private health insurance with a major dental in order to get a contribution from your health insurance towards dental implants.
Does Medicare cover dental implants?
Medicare doesn't typically cover any dental services unless they are related to an illness or injury. If you need certain dental procedures as a result of injury to the face or jaw, those services are also generally covered.
Under certain conditions, Medicare may pay for your inpatient care if you need to have a complex dental procedure in a hospital, although the dental procedure itself isn't
What should I expect from dental implant surgery?
Traditional dental implant surgery usually involves two surgical procedures placed several months apart. During the first phase, the implants are placed within the jawbone. Typically, patients will then wait 2 to 4 months in order to allow the implants to bond securely with the jawbone. Most patients can wear temporary dentures and eat a soft diet during this interim. During the second procedure, your dental implant surgeon will uncover the implants and then attach small posts that will serve as healing abutments until final replacement teeth are made by your restorative dentist.
Is the Placement of Dental Implants Painful?
The doctor will perform dental implant surgery under local anaesthesia, and with some patients, the addition of intravenous sedation. If medically necessary, general anaesthesia may prove to be the better option, depending on a patient's medical history. Patients may experience some postoperative swelling and residual discomfort, which can be reduced with pain medications. Dr. Lazare and the specialists he refers to take every step to ensure great dental experiences for his patients.
Which company is best for dental implants?
The best company for dental implants would likely be a competent oral and maxillofacial surgeon.
Where is the cheapest place to fix your teeth?
The cheapest place to fix teeth is usually a dentist. If you're concerned about the health of your gums, it's important to get a second opinion from an appropriately qualified professional. Flossing and good oral hygiene can help restore your gum health, but in some cases, more serious measures may be necessary. Our hawthorn woods family dental office offers a variety of oral surgery, cosmetic and surgical options to help improve your oral health. We can also place a titanium screw or metal post in your adjacent teeth to provide support. Call us to schedule and get your new smile an appointment today.
Related Services we provide to Elsternwick's residents:
– Dental Implants Elsternwick
– Dentist Elsternwick
– Cosmetic Dentistry Elsternwick
You may also want to read our Elsternwick Suburb Article.