Dental Implants Melbourne VIC Cost
Affordable Tooth Implant
Glenferrie Dental takes pride in offering superior Dental Implant services in Melbourne, VIC. Our team of dental professionals is committed to restoring lost teeth and delivering beautiful, functional smiles to our patients. At Glenferrie Dental, the cost for a single tooth dental implant begins at $4,500.
At Glenferrie Dental, we understand that a healthy, radiant smile is more than just about appearance. It's about the confidence to enjoy life without hesitation. Whether you're missing a single tooth or several, our dental implants in Melbourne can be a long-lasting solution that closely mimics the strength, function, and aesthetic appeal of natural teeth.
Our team of highly skilled and seasoned dental surgeons take great pride in their expertise in oral surgery, including dental implants, all performed within the safety and comfort of our hospital-grade operating facilities. We go beyond the recommended standards for dental surgeries, ensuring your procedure is conducted under stringent infection control and sterilisation conditions.
At Glenferrie Dental, we're committed to restoring more than just your smile. Our dental implants can give you the freedom to enjoy your favourite foods, laugh freely, and live confidently. If you're considering dental implants in Melbourne, please contact our friendly reception team to book a consultation, where we can answer all your questions and address any concerns.
Cost of Dental Implants in Melbourne, VIC
The dental implant cost can vary depending on the type and number of implants, the location, and the procedure used. The average cost of a single dental implant is $3,000. The average cost of a complete set of dental implants is $25,000.
Single Tooth Implants: The cost of a single dental implant typically ranges from $1,000 to $3,000, depending on the type of implant, the complexity of the procedure, and other factors.
Implant-Supported Dentures: The cost of implant-supported dentures typically ranges from $7,000 to $25,000, depending on the number of implants needed and the complexity of the procedure.
Multiple Teeth Implants: The cost of multiple teeth implants typically ranges from $3,000 to $15,000, depending on the number of implants needed and the complexity of the procedure.
All-on-X: The cost of an All-on-X typically ranges from $20,000 to $25,000, depending on the complexity of the procedure.
Dental Implants Pricing Table
| | | | |
| --- | --- | --- | --- |
| Procedure | Full Price | Fortnightly Price | Payment Provider |
| Single tooth implant | $4,500 | $97.77 (39 fortnights) | Humm/NDP (Deposit $899/20%) |
| Implant-supported denture | $5,900 | $126.51 (39 fortnights) | Humm/NDP (Deposit $1,180/20%) |
Terms & Conditions: Pricing is indicative only of an average cost. Pricing can vary depending on the medical condition and requirements of the patient as well as the materials used.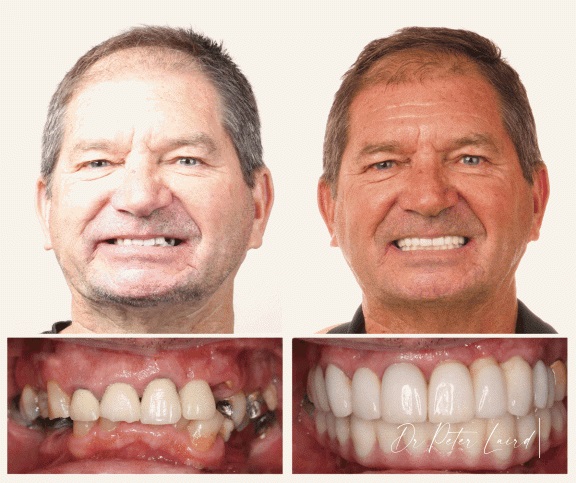 Reasons to Consider Dental Implants in Melbourne
A confident smile is necessary to maintain or regain a complete sense of well-being.
The benefits associated with tooth restoration enhance our perception of self and consequently influence how others perceive us, in turn.
A healthy smile takes years off, improves appearance, and makes you feel ready to grasp the opportunities in your path without feeling debilitated over how you might come across.
Maturity brings challenges that are often unforeseen. Very few people escape oral complications entirely. A healthy mouth, free from the ravages of bad, loose or broken teeth and dentures, offers significant health benefits, apart from pleasing aesthetics.
Ill-fitting traditional dentures or bridges, spatial gaps, bone decay, bone mass loss, broken crowns and intermittent infections contribute to reduced health and several associated medical conditions.
Careful planning allows you to make dental implant surgery a reality. There is a treatment path to accommodate every situation linked to a payment plan to facilitate implant surgeries.
Dental Implants Before & After
Click the below video to play. The video contains real patient images from Dr Peter Laird at Glenferrie Dental.
Benefits of Dental Implants
Dental implants are a popular and effective solution for replacing missing or damaged teeth. They provide a number of benefits over traditional options such as bridges or dentures, making them an ideal choice for many individuals.
One of the main benefits of dental implants is their natural appearance. Implants are designed to look and function like real teeth, so they blend seamlessly with your existing smile. This can boost your confidence and self-esteem, making it easier to eat, speak, and smile with ease. Another benefit of dental implants is their durability and longevity. Implants are strong and durable materials that withstand the normal wear and tear of everyday use. With proper care, they can last for many years, even a lifetime, making them a cost-effective solution in the long run. In addition, dental implants do not require the removal of any healthy tooth structure, unlike traditional bridges. They can also help preserve the integrity of your jawbone and facial structure, which can help prevent further deterioration. Finally, dental implants are relatively easy to care for and maintain. They can be brushed and flossed just like natural teeth, and regular dental check-ups are the only necessary maintenance to ensure they remain in good condition. Overall, dental implants are a great option for those looking to replace missing or damaged teeth. They provide a natural appearance, durability, longevity, preservation of healthy tooth structure and easy maintenance. Consult your dentist to see if dental implants are the right choice.
Dental Implants Procedure Melbourne
Expert dentist services in Hawthorn at Glenferrie Dental, we understand the importance of having a healthy and confident smile. That's why we offer our patients the latest in dental implant technology and procedures. Our team of experienced dentists and specialists are dedicated to providing you with the best care possible, ensuring that your implant procedure is as comfortable and efficient as possible.
Our dental implant procedure begins with an initial consultation, where we will thoroughly evaluate your dental health and discuss your treatment options with you. We will take X-rays and make impressions of your teeth to ensure that the implant is the best fit for you. Once we have a detailed plan in place, we will schedule the surgery.
During the procedure, the implant will be inserted into the jawbone, and then left to heal for several months. This allows the implant to fuse with the bone, creating a strong and stable foundation for your new tooth. Once the implant has healed, we will attach the abutment and the new tooth.
We use only the highest quality materials for our dental implants, ensuring that they are strong, durable and long-lasting. Our team of specialists will work closely with you throughout the entire process, answering any questions you may have and providing you with the support and guidance you need.
What are Dental Implants?
Dental implants are titanium anchors that are surgically inserted into your jawbone, providing a solid foundation for natural-looking crowns. The titanium posts will naturally integrate (osseointegration) with the surrounding bone, creating a robust foundation for your new teeth.
The process is an essential part of oral health and facilitates bone growth, where the prolonged absence of teeth causes the bone in the jaw to degenerate.
Old, traditional methods – removable dentures or partial dentures and bridges – fail to cure the problem of bone loss and/or prevent complications, like collapsed sinuses.
Even though these options provide a more cost-effective solution, albeit a temporary one, the cost in the long run outweighs the sustained benefit.
Dental implants have been in use as an option in dental corrective treatment for a period of around 50 years. While the cost is significantly higher than a traditional solution, implants do provide you, the dental patient, with a permanent, safe cosmetic procedure that is sustainable and supported, as long as a prescribed standard of care is maintained to preserve reclaimed oral health.
Essentially, a dental implant is fitted by means of placing a post inserted into the gum and secured within the bone. The post used is manufactured with titanium and looks like a tiny screw, only millimetres in diameter.
Titanium is a noble metal, and thus, is bio-compatible with the composition of human bone, which explains its use in a number of dental procedures for over five decades.
The post integrates with the bone and encourages bone re-growth. The process is called osseointegration.
Your cosmetic dentist will assess the density of the existing bone with the help of X-rays or a 3D scan to decide on the correct placement (post) before treatment commences.
Once the post or posts have settled, along with the abutment, which is fitted to the screw, and a sufficient amount of healing has taken place, the crown bridge, tooth, teeth or denture will be fitted according to the smile design.
Costs Associated with Dental Implants
Full Mouth Dental Implants in Melbourne – Average Cost
At the time of going to print, estimates within the Melbourne district are gauged as follows:
Removable implant-retained dentures:
| | |
| --- | --- |
| The average cost for one arch, commonly inserted with two posts: | $10,000 |
| Double arch estimate | $21,000 |
| Cost ranging across a spectrum of service providers (one archtop or bottom) | $8,000 – $17,500 |
Fixed implant-supported dentures (Melbourne)
| | |
| --- | --- |
| The average cost for one arch, commonly inserted with two posts | $21,500 |
| Cost ranging across a spectrum of service providers (one archtop or bottom) | $15,000 – $28,000 |
Single Tooth Dental Implant in Melbourne – Average Cost
Estimates in Melbourne for a single-tooth dental implant:
| | |
| --- | --- |
| Average | $4,500 |
| The range across the spectrum of service providers | $3,500 – $6,500 |
Costs include:
Placement of post and abutment
A custom-made abutment and porcelain crown
Avoid settling on pre-fabricated abutments as an option. They tend to require frequent fixes.
Mini implants are recommended for patients who do not suit traditional or current implant options, which include existent genetic conditions or those on immune-supported therapies.
Mini implants are also a cost-effective alternative for smaller budgets.
Our Dental Implant Treatment Plan and Payment Options
At Glenferrie Dental, we understand the importance of a healthy and confident smile. That's why we offer a comprehensive dental implant treatment plan to help our patients regain their dental function and aesthetics. Our highly trained and experienced team of dentists will work closely with you to create a personalised treatment plan that meets your unique needs and goals.
Our dental implant treatment plan typically includes a consultation, diagnostic imaging, surgical placement of the implant, and the final restoration. We use state-of-the-art equipment and techniques to ensure the highest level of precision and safety. Our team will also provide you with detailed instructions on how to care for your implant and keep it in good condition.
We understand that dental implant treatment can be a significant investment, and that's why we offer a variety of payment options to make it more affordable for our patients. We accept most major credit cards and financing options such as CareCredit. Our team will also work with you to create a customised payment plan that fits your budget.
Don't let missing teeth or poorly fitting dentures hold you back from enjoying a beautiful, healthy smile. Schedule a consultation with us at Glenferrie Dental today and learn more about our dental implant treatment plan and payment options. We're here to help you achieve the smile of your dreams.
Reputable Dental Implant Clinic in Melbourne
Glenferrie Dental, Melbourne
Glenferrie Dental in Hawthorn, Melbourne, provides their dental implant patients with the excellent care they deserve.
Dr Peter Laird, Dr Andrew McAliece and Dr Marjan Ardebili possess 60 years of experience between them and are equipped to assess your situation using state-of-the-art equipment, added to a large dose of empathy and care for the wellbeing of their patients.
Dr Peter Laird Places Hundreds of Dental Implants Each Year
Dr Peter Laird, the resident dentist at Glenferrie Dental has extensive experience in dental implant surgery. Dr Laird is backed up by a team of qualified anaethetists, oral specialists that he consults within specific cases and makes use of a lab that offers his patients a reputable service.
Dr Laird has had a particular interest in dental implant surgery for over a decade, having been trained to perform the surgery with great success.
He is known to care deeply for his patients, and the experience is made as comfortable for those in his care as possible.
'It's imperative,' says the doctor, 'for us to take a holistic view when we treat the implant candidate. Not all treatments are suitable for every case, and sometimes, the procedure might take longer. In order to prepare the mouth properly, certain procedures are mandated, like a sinus lift, for some patients, or a bone grafting, in cases where severe bone loss has occurred.'
Dr Laird notes the importance of caring for your implants once you've regained your smile.
He encourages his implant patients to visit the clinic at least twice annually to assess the health of their mouth. He is particularly mindful of post-operative care, and you are advised to follow his advice strictly.
'Healing is half the battle won,' he advises, 'while tooth extraction and the initial phases of getting used to dental implants will cause some discomfort, in order for the gums and bone to heal, certain cleaning routines need to be maintained; rigorously.'
He does not recommend patients exercise or return to work for at least three days after having implant surgery or tooth removal. He does recommend eating soft or liquified foods till some measure of healing has occurred.
Any unusual symptoms like bleeding or a raised temperature after the third day after a procedure should be dealt with immediately.
The doctor puts implant surgery in perspective: 'No surgical procedure should be taken as an instant fix-all solution without proper consideration for your health – after all, you want your new smile to last twenty, thirty, even forty years.'
Glenferrie Dental places importance on providing every patient with a treatment plan to suit the expectation behind each smile design. A number of payment options are available to facilitate implant therapy, making the journey to gaining a winning smile reachable.
The process is made as comfortable as possible, offering sedation and IV anaesthetic to alleviate anxiety in patients who suffer dental trauma.
Schedule an appointment online or send a message describing a concern – doctors and staff welcome your enquiry.
Back to top: Dental Implants Melbourne
Dental Implants Frequently Asked Questions:
How do dental implants work in Melbourne?
Dental implants in Melbourne are placed into the jawbone and allowed to fuse with the bone over time. This process, called osseointegration, provides a strong and stable base for artificial teeth.
Who is a candidate for dental implants?
Generally, anyone in good overall health who has lost a tooth or teeth due to injury, periodontal disease, or other reasons may be a candidate for dental implants.
How long does the implant process take in Melbourne, VIC?
The dental implant process in Melbourne can take several months to complete. The initial surgical placement of the implant may take only a few minutes to a few hours.
Are dental implants painful?
Most patients report only minimal discomfort during and after the implant procedure.
How long do dental implants last?
Dental implants can last for many years with proper care and maintenance.
How much do dental implants cost in Melbourne?
The cost of dental implants in Melbourne can vary depending on the number of implants needed and the type of implant chosen.
Are dental implants suitable for diabetics?
It is possible to undertake dental implant therapy as a person with diabetes.
As long as the condition is under control and care is taken to maintain blood-sugar levels.
Diabetic patients enjoy the same success rate as non-diabetic patients, immaterial whether you suffer from Type 1 or Type 2.
Traditional implants are recommended for diabetics, and a course of antibiotics is recommended to help with the healing process.
A longer process that is given the necessary time to heal excludes mini or accelerated implant options.
Does insurance cover dental implants in Melbourne?
Dental implants in Melbourne are classified as cosmetic procedures, and for this reason, are not covered by medical insurance.
Insurance will not cover problems that occurred before membership commenced, like the loss of a tooth or teeth.
Specific standard dental procedures may be covered as a result, including x-rays or oral hygiene sessions. Commonly, though, these procedures are covered at 100%.
Financial concessions are available through dental discount plans. A monthly or yearly fee grants eligibility for discounts on a variety of dental procedures, including cosmetic dentistry procedures.
Medical assessments are not required to be undertaken to qualify for membership.
A 15-year fixed plan with an interest rate averaging between 3% and 5% requires a monthly contribution of $200 – $500.
The scheme is well worth considering when planning oral restoration.
Even though 90% have reported that they cannot afford the cost of implants (authoritydental.org), dental discount plans, like Supercare Australia, help patients plan for treatment.
Many factors influence costs:
Procedural costs differ across the country, its states, dental practices, and even among individual dentists within a practice.
Materials used to manufacture implants are costly.
Anaesthesia and/or supplementary procedures are often part of the treatment plan, which add to the overall cost.
Although every attempt has been made to give accurate information regarding procedure and pricing, it should be noted that each individual case is dependent on and subject to a professional opinion. The statistics mentioned in this article provide averages and are not intended to act as an official guide.
Does smoking affect dental implants?
Smoking is cited as a cause of implant failure. A condition called peri-implantitis can occur, causing inflammation, bleeding and bacterial infection. However, smoking is not the only cause of the situation. Treatment demands surgical procedure, as both soft and hard tissue becomes affected.
If possible, avoid smoking entirely during the healing process to prevent constriction to the capillaries, giving the bone a chance to grow. Smokers have an 84.2% success rate as compared with a 98.6% success rate among non-smokers, according to authoritydental.org.
Of more significant concern than factors that are in the patient's control to some extent is the case for unethical dentists or under-qualified practitioners performing implant surgery. The rise in 'cheap' botched implant jobs plays out the importance of selecting an implant dentist with great care.
Are dental implants safe?
Safety is assessed by the care a patient takes to ensure healing and maintenance. 
Short of a rare reaction to metal or the influence of an underlying medical condition, dental implants are shown to have a very high success rate, between 93-95%.
Choose a cosmetic dentist that has a good reputation as a well-respected practitioner supported by a great team.
How long does a dental implant procedure take?
The first step is your consultation, where your cosmetic dentist will make a diagnosis and present you with options.
The process itself can take a day, or two years, depending on the restorative functions that need to be performed before placement is made.
This might include extractions and healing time. More complex procedures like a sinus lift or bone grafting will prolong the procedure as each treatment happens in stages.
It is possible to get a temporary replacement in a single consultation, while a permanent replacement takes about six weeks to fit.
Can you get an implant immediately after tooth loss?
Almost immediately, if the cavity is free from infection and your dentist is satisfied that enough healing has taken place.
In the event that the loss had occurred a year or more prior to consultation, a bone assessment will be done to decide whether the bone is able to support an implant.
What to look for in a dental implant practitioner Melbourne?
If a practitioner uses misleading marketing speak as in the first scenario posed and willingly approves an advertising campaign that deliberately lures people with the aid of erroneous information, one has to question the value of the service to start with.
Your chosen practitioner is vital to the success of your implants – he, or she, has performed implant surgery consistently on many different patients, from primary, uncomplicated cases to complex presentations requiring sundry procedures and lengthy-time frameworks.
How a Reputable Practitioner Approaches Dental Implant Surgery?
They specialise in implant surgery and new techniques.
They are knowledgeable about the efficacy of the various materials available, which type to prescribe guided by the particular oral presentation, and is particular about the laboratory or laboratories that they use to serve the patient.
The specialist will perform a proper assessment of the bone density apparent and draw informed conclusions about the state of the gums and the thickness of the tissue.
Considerations like a bite, the flow of sufficient blood to the area, and the softness of the bone all play an important role in deciding on the best course of treatment.
Your doctor will know which implant brands to avoid and when a custom abutment is preferred over a pre-fabricated one.
They know that, in spite of the potential for metal allergy, this might not necessarily be the case with titanium.
You will be properly prepared for each procedure that is specific to your particular case.
How much does a dental implant cost in Melbourne?
The cost of a dental implant in Melbourne can vary depending on several factors. These include the type of implant, the number of implants, the location of the implant, the type of tooth being replaced, and the procedure's complexity. However, dental implants cost between $3,000 and $5,000.
What is the downside of dental implants?
Dental implants are not right for everyone. Some risks come with having this surgery. These risks include infection, damage to other teeth, and implant failure.
How much does a full mouth of dental implants cost in Melbourne?
A full mouth of dental implants in Melbourne can cost around $25,000. This includes the cost of the implant surgery, the abutment, and the crown.
Can dental implants be used to replace multiple missing teeth?
Yes, dental implants can be used to replace multiple missing teeth.
Are there any restrictions on what I can eat after getting dental implants?
After the initial healing period, patients can eat their normal diet.
How will I care for my dental implants?
Proper oral hygiene, including brushing and flossing, is essential to the long-term success of dental implants.
Will my dental implants look natural?
Dental implants can be designed to match the colour, shape, and size of your natural teeth.
Will my dental implant feel like my natural teeth?
Dental implants are designed to function like natural teeth, but the sensation may be different.
Do dental implants require special maintenance in Melbourne?
Regular oral hygiene, including daily brushing and flossing, is needed to maintain dental implants.
Can dental implants be removed?
It depends on the type of implant, some implant can be removed if needed, but others are permanently fixed in place.
How long will I have to wait before I can use my dental implants?
The healing time after the placement of dental implants varies, but typically patients can use their new teeth within a few months.