Glenferrie Dental's experienced dental professionals understand the importance of a full, healthy smile. Our extensive range of false teeth options is designed to cater to diverse needs, circumstances, and budgets.
From traditional dentures to more advanced dental implants, our suite of solutions ensures you no longer have to compromise on the aesthetics or functionality of your smile.
False teeth options in Australia are varied, and each solution comes with its unique features, benefits, and costs. Here at Glenferrie Dental, we specialise in delivering bespoke treatment plans tailored to your specific dental needs and financial considerations.
Our commitment to excellence, coupled with our state-of-the-art facilities, ensures you receive the highest standard of care and treatment.
Regain your confidence to eat, smile, and laugh without hesitation, with our wide range of false teeth options at Glenferrie Dental. For a comprehensive consultation, please reach out to our friendly reception team on (03) 9007 2877 – we look forward to guiding you on your path to dental restoration.
Keep reading to find out more about the various fake teeth options and which one is more suitable for you.
What Are Fake Teeth?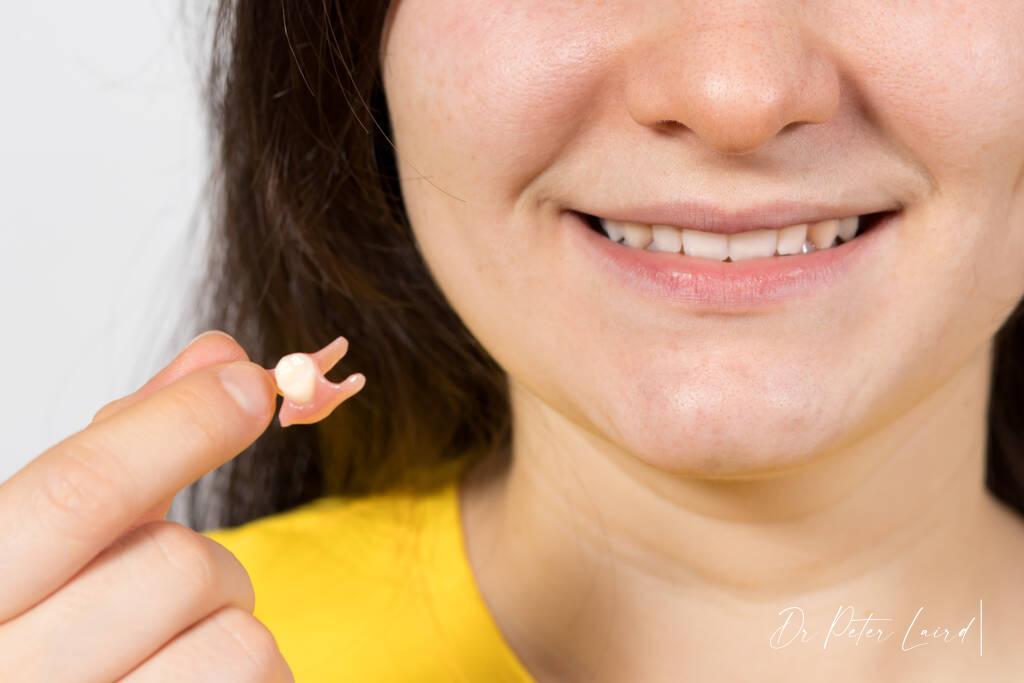 Fake teeth are also known as dentures. There can be acrylic dentures, as well as metal and nylon. Dentures act as a prosthesis for missing teeth. They serve as a replacement for a single tooth, several or all of the teeth.
It is no secret that prolonged missing teeth can cause gum diseases, tooth decay, and facial injuries. False teeth are designed to help you and improve your facial appearance. They keep you confident in your smile and make it easier for you to eat, chew and speak while protecting your remaining teeth.
Tooth loss is the reason people get dentures (fake teeth). This teeth loss could be caused by poor oral hygiene, infection, jaw injury, severe tooth decay, or periodontal disease. It would be best to have healthy gum tissue and enough jawbone structure to get false teeth.
Fake Teeth Options
There are numerous false teeth options available for you. One thing they have in common is they require fitting that matches your teeth's colour, size, and shape. A prosthodontist or a general dentist can handle the fitting. The options involved include:
Dental Implants
Dental implants involve surgery; a metal rod with a screw is drilled into the upper or lower jawbone and gum. Time is given for the jawbone and metal rod to fuse, after which a replacement tooth is screwed. Implants are a lifelong solution to tooth loss.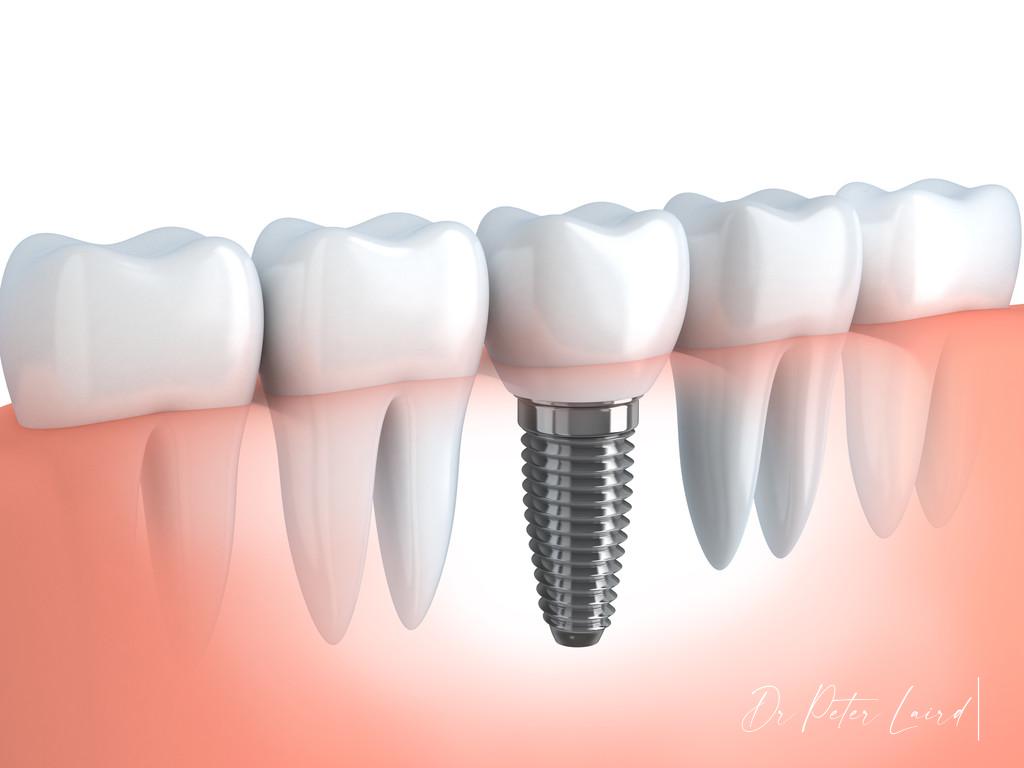 Integrating dental implants into the bone structure makes them stable and look and feel like an individual's natural teeth. There are two types of dental implants:
Endosteal implants are implants "in the bone"
Subperiosteal implants are "on top of the jawbone under the gum tissue"
Dental implants can support removable dentures, so they don't become loose, thus securing a comfortable fit because of their stability. Dental mini-implants can also function as temporary anchoring devices (TADs) during orthodontic procedures to assist in moving teeth to the appropriate position. These little implants help to stabilise teeth during movement since they are tiny and momentarily fixed to the bone.
The All-on-4 dental implant technique is the best option for individuals who lost all their teeth due to decay or gum disease.
Fixed Bridge
As the name suggests, your dentist can close the gaps in your teeth with dental bridges. A typical dental bridge consists of crowns bonded to each abutment tooth, which hold the fake tooth or teeth in place.
A fixed bridge crowns the abutment teeth on both sides of the gap. The abutments serve as a support for the false tooth in the middle. A fixed bridge is cemented in place by the dentist, and only the dentist can handle the removal. Placing a fixed bridge requires several dental visits.
One of the core benefits of a fixed bridge is being fully fixed in the mouth. In other words, they don't slip while chewing or eating. Unlike other restorative dentistry options, fixed bridges are easy to maintain, adjust, and are more comfortable.
Custom Traditional Dentures
Custom traditional dentures are removable false teeth available. They provide you with more natural-looking dentures that match the remaining teeth or the ones being replaced. Dental veneers can also be sued to cover the front teeth to improve their appearance.
Traditional dentures have no anchorage like dental implants; they can be easily fixed and removed. However, sometimes these new dentures don't fit or belong to a person's face and sometimes make noises when chewing or speaking.
When these dentures are custom-made, they are more comfortable. Since they are made to fit perfectly, custom dentures are held in place by natural suction. They complement your facial features, preventing you from losing your youthful appearance. There is no need for denture adhesives when they fit properly.
Wearing dentures for the first time can be overwhelming, but with time, you will get used to them.
Full Dentures
Full dentures can be either immediate dentures or conventional dentures. They are replacements for the full set of teeth, not part of it. They are usually made of acrylic resins and supported by the remaining hard or soft tissues. Complete dentures are used if the natural teeth can't be saved.
You can get full upper or lower dentures depending on your dentist's recommendation. When all the teeth are lost, full dentures are typically used in the mouth.
If conventional, the denture is placed in the mouth eight to twelve weeks after tooth extraction, but if immediate, the dentures are placed as soon as the tooth is removed.
Partial Denture
Partial dentures, one of the types of dentures, are used if an individual still has some healthy teeth. These dentures are then clipped on the healthy teeth. Unlike complete dentures, they can only replace a few teeth.
Partial dentures are made up of acrylic bases that are gum-coloured and fake teeth. The denture's base is connected to two or more clasps that keep it in place. To provide more stability, clasps are either composed of metal or flexible pink plastic and hook into the neighbouring teeth. Though these clasps can be visible when you are talking, they can be made to appear natural using tooth-coloured material.
Partial dentures can be implant-supported or implant-retained dentures.
1. Implant-Supported Dentures
In implant-supported dentures, there is a combination of dental implants and dentures. The process involves attaching dental implants to your jawbone, and two to six months are given for the bone to merge with the implants. Once the implants are now fixed to the jawbone, a set of dentures is attached to them. A dentist can only remove implant-supported dentures.
2. Implant-Retained Dentures
Dental implants hold them in place on top of your gums. Overdentures can be placed in the upper, lower, or both jaws. Dental implants are titanium screws fused in the jawbone to assist and retain dentures. The overdentures, sometimes called implant-retained dentures, are fastened to the implants. To secure a single denture, 2 to 4 dental implants are typically needed for each jaw.
How Much Do Fake Teeth Cost Australia?
The national dental survey stated the average cost of dentures to be $5,563 per artificial tooth in Australia. However, using any of the above options, fake teeth can cost up to $10,000 or sometimes $20,000. The prices vary depending on the number of teeth you want to replace. It is best to consult your dentist first before making any decisions.
| Type of Fake Teeth | Fake Teeth Cost |
| --- | --- |
| Permanent Dentures | $2,500 – $8,000 |
| Implant-Supported Dentures | $8,000 – $15,000 |
| Dental Bridges | $1,500 – $5,000 |
| Single Tooth Dentures | $1,000 – $3,000 |
| Temporary Teeth | $300 – $1,000 |
How to Maintain Your Fake Teeth
Fake teeth require daily cleaning, just like natural teeth. Your dentist will guide you on how best to clean your dentures depending on the fake teeth option you opt for.
Fake teeth require dental solutions for cleaning, depending on the type of fake teeth. You must ask for a recommendation from your dentist for a cleaning solution for them. Brushing should be done with a recommended toothbrush and toothpaste.
Handle your removable dentures with care. At the same time, remove them, don't bend them, and try to avoid damaging any clips to increase the lifespan. Also, don\'t allow your denture to dry out. Soak them overnight using the solution or a glass of water. Then, ensure you rinse before putting them back on.
Are You a Good Candidate for Fake Teeth?
Anyone looking to replace missing teeth is a candidate for fake teeth. However, the fake teeth option is to be determined by your dentist. It is under cosmetic dentistry, done to improve your teeth's appearance.
Conclusion
Artificial teeth are known as false teeth, and there are various options if you need your teeth replaced by them. However, dental bridges are a common alternative to dentures. False teeth implants are permanent though more expensive, but you can choose to have one implant or as many as you want.
Ensure you visit a dental care clinic to get proper treatment. Your oral health is very important. The Hawthorn dentist office at Glenferrie Dental clinic is available to ensure you get premium dental care for your missing teeth.
FAQs
What are the Best Fake Teeth to Get?
There are no best fake teeth. Your choice of false teeth should depend on your dental health and budget.
How Long Do Fake Teeth Last?
Fake teeth can last for 5 to 30 years, depending on the option.
What are Modern False Teeth Made from?
Modern false teeth are made from acrylic resin and sometimes porcelain.
Are Fake Teeth Comfortable?
Fake teeth, if poorly fitted or if they are worn out and not replaced, cause discomfort. Dentures are fake teeth worn to replace lost teeth, and they are comfortable, especially because they are custom-made.